Unleash Your Potential with Her Skill Academy!
Maximize Your Learning Stipend: Choose Impact Over Just Another Course
Considering How to Use Your Company's Learning Stipend?
Browsing endless courses on platforms like Coursera without a clear ROI?

Thinking about that industry conference that offers little more than a day of networking?


Planning to waste it and not use it at all?
Reimagine your growth with Her Skill Academy! Get specialized, tailored, and impactful development designed for ambitious women like you.
Why Her Skill Academy Over Others?
Focused Learning Path:
Completition rate on all courses.
Real-World Application:
Completition rate on all courses.
Community & Networking:
More than a course, it's a lifetime network. Connect with ambitious women, mentors, and industry leaders.
Track Record
Alumni of Her Skill Academy have secured top positions, shattered glass ceilings, and confidently navigated their careers.
Compare & Decide: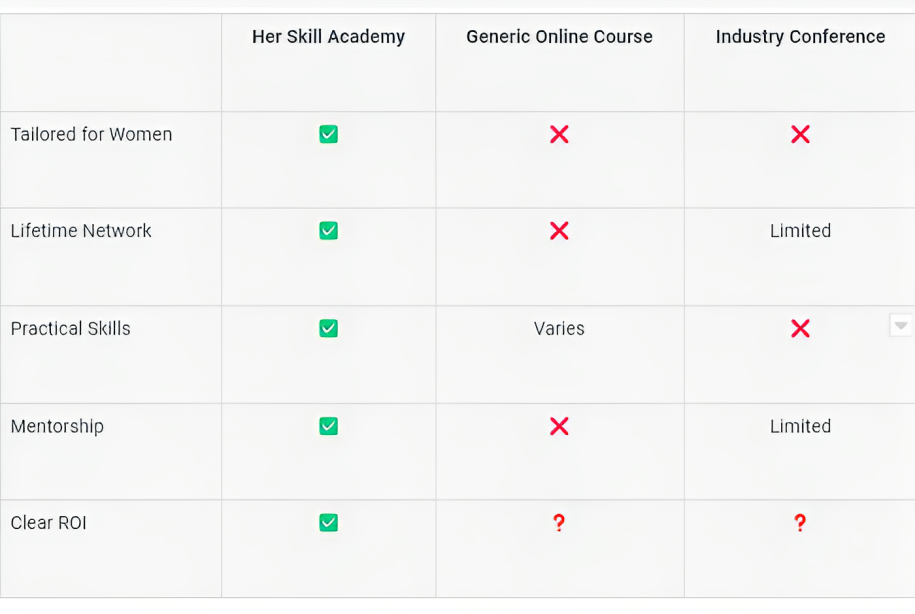 Testimonials from Empowered Women
"I was on the verge of leaving my role, feeling unacknowledged and stagnant. Her Skill Academy's program gave me the confidence and skills to voice my value and prepare for better assignments. I was able to upskill technically and improve my executive presence in just 3 months. Today, I see a bright leadership path ahead, all within the same organization."

SOPHIA, PROJECT MANAGER AT TECH STARTUP
"This program changed my perspective. I understood my skill gaps , improved my communication skills, and today, I'm being groomed for a managerial role. I owe this transformation to Her Skill Academy."

PAIGE, ANALYST AT FINANCIAL SERVICES COMPANY
Make Your Stipend Count!
Your company believes in your growth. Use your stipend wisely. Choose a program that drives real career growth, provides a supportive community, and delivers tangible results.